Facilities


Lecture Rooms
Equipped with a projector, screen and wireless microphone.
Museum
The museum is adapting T-VOIX app that supports 4 different languages, English, Korean, Chinese (Simplified / Simplified)) and it can translate the exhibition commentaries using a smartphone.
Lockers
A free coin locker for facility users are on the 1st floor (40 lockres), for small size, medium size, and large size baggages.
Vending Machines
A vending machine is on the 1st floor.
AED
AED (Automated External Defibrillator) is installed at the museum reception. In case of an emergency, please speak to the office or staff.
Parking for People with Disabilities
There are 3 parking spaces in front of the front entrance.
(Reservations not accepted)
Multipurpose Toilet
There is one on the 1st floor of the building with a diaper changing table. Compatible with wheelchairs and ostomates.
Those with small children (nursing room, diaper changing table, etc.)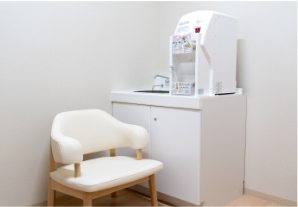 Nursing Room:
There is one nursing room on the 1st floor in the building.
A hot water sink and a water heater for fomula milk are available, along with a diaper changing table and a large relaxing chair for breastfeeding.
* If you would like to use the nursing room, please contact the staff.
Diaper Changing Table:
There are two diaper changing tables, one in the nursing room on the 1st floor, and the other in the multipurpose restroom on the 1st floor.
The facility is barrier-free. Wheelchair users can also enjoy it.
Three wheelchairs are rented free of charge. Please ask at the reception desk of the facility.
Please note that the number is limited. In addition, you cannot enter with a handle-type electric wheelchair (senior car).
Handle-type Electric Wheelchair (senior car)
If you are using a handle-type electric wheelchair (senior car), please change to a free regular wheelchair we have at the reception.
Please ask at the reception desk.
Assistance dogs such as guide dogs, service dogs and hearing dogs are allowed.
Facility Policies
When taking pictures on the premises, please be careful not to inconvenience other customers especially when using a tripod, selfie stick, flash, etc.
The staff may speak to you in case of inconvenience to other customers such as shooting while blocking the aisle. In addition, permission is required for commercial photography.
Photography is prohibited in some parts of the museum.Please check with the staff.
Smoking is prohibited except in designated smoking areas.
Please refrain from using with large luggage such as kickboards and carry bags. Please use the coin lockers in or near the building.
*If the staff determines that it will be a nuisance to other customers, we may speak to you to leave it to the locker.
Pets are not allowed in the park or in the facilites, except for guide dogs, service dogs and hearing dogs are allowed.
Ball games (soccer, golf, tennis, etc.) in the park, operation of drones and radio-controlled models, skateboarding, other dangerous acts, etc. If we see it will cause some dangers to the other visitors, we may refuse your admission.