Hours
9:00-17:00
(The last admission for the museum is at16:30.)
Holidays
Open everyday
** We may be temporarily closed due to facility inspections and weather conditions.
Museum Admission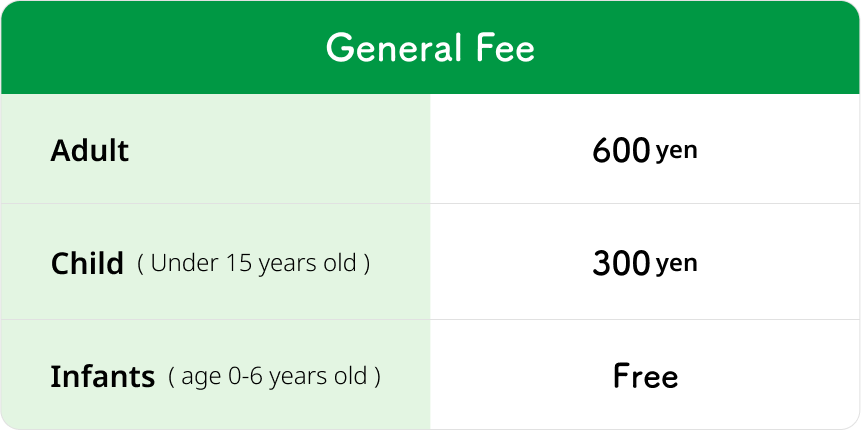 * 1. If you are a junior high school student, please show your school ID at the reception.
* 2. Free of charge for elderly people (70 years old and above) living in Uji City and their caregivers (1 person).
* 3. Caregivers are for those over 18 years old (high school students are not included).
* 4. Free for pre-school children of age (age of 0-6 years old).
Facility Policies
Policies for everyones' safety and comforetable experience at chazuna.
Museum Re-entry:
It will be a one-time admission per person on the same day.
Taking Photos / Videos
Please be mindful of other customers when using a tripod selfie stick, flash etc.
The staff may speak to you in case of inconvenience to other customers such as blocking the aisle while shoting. In addition, permission is required for commercial photography.
Photography is prohibited in some parts of the museum. Please check with the staff.
Smoking
Smoking is prohibited except in designated smoking areas.
Big Baggage
Please refrain from using with large luggage such as kickboards and carry bags. Please use the coin lockers in or near the building.
*If the staff determines that it will be a nuisance to other customers, we may speak to you to leave it to the locker.
Bringing in Your Own Food
You can bring your own food in some areas, but no food and/or drinks are allowed in the museum, experience rooms, restaurants, and shops.
Please take care your trash and bring them back home with you.
Pets
Pets are not allowed in the park and in the facility. The exceptions are guide dogs, service dogs and hearing dogs.
Activities Not Allowed
Ball games (soccer, golf, tennis, etc.) in the park, operation of drones and radio-controlled models, skateboarding, other dangerous acts, etc. If we see any behavior that may cause dangers to the other visitors, we may refuse your admission.